3 Ways to Avoid Asking Self-Sabotaging Questions
Part 1 in a series of 3 posts
by Brian Berry-Berlinski
Guest Blogger
Life At Choice Certified Coach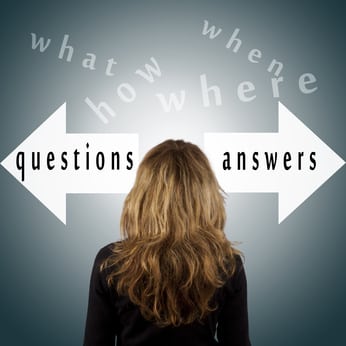 Recently, I was looking at videos of extraordinary people doing extraordinary feats. One was of an experienced acrobat spinning gracefully on a giant metal hoop. The other video was of an intrepid trekker who traveled from one end of China to the other. Such amazing people, producing beautiful videos that garnered thousands of hits on YouTube. "Why can't I be talented and special like them?" I asked myself. "Why can't I shine like they do?" I couldn't stop comparing myself to these brilliant people who were doing something spectacular with their lives.
Then I realized the slippery slope I was leading myself down – asking the wrong questions.
By asking the wrong questions, I was subconsciously inviting undesirable things to show up in my life. In that moment, I remembered that any question that begins with "Why can't I" is an invitation to disaster. You can easily avoid this hidden form of self-sabotage, and here are three ways:
1) Challenge the "can't"
Asking, "Why can't I…" leads you down a dangerous rabbit hole to an experience called "I'm stuck." By beginning your thought with "Why can't I," you are declaring in advance that the answers you seek are out of your reach. It's the kind of thought that comes from a limiting belief that tells you what you can't do.
In truth, "Why can't I…" magnifies the false belief that you are not able to get what you want. For example, "Why can't I find a job?" creates more struggle in finding a job. How many people do you know have struggled with finding and retaining employment? They may perhaps point to the economy and other external circumstances as the reasons they can't find work. This is called "evidence gathering," and it further reinforces the made-up story that it is impossible to find a job.
On the other hand, "How do I create the perfect job for me?" sends a signal to the universe that:
•   you know there is a job for you
•   you deserve to have a job you love, and
•   you are AVAILABLE to receive the job you love!
"How do I…" indicates that you are approaching the job situation, or any other situation, from a belief that "all things are possible." It's the difference between suffering in a cycle of lack and walking the path of prosperity.
Through this practice, I changed my words:
"Why can't I shine like they do?" became "How do I shine in the light of my own greatness?" Isn't that an awesome shift? The feeling I have after asking myself the second question is much more joyful and energizing than the emotion I generated while asking myself the first question.
If you change your "Why can't I…" questions into "How do I…" questions, then you would be doing yourself a huge service. Believing in yourself and having faith that the answer already exists – that's the way to go. How can you receive something that you don't think you are capable of receiving? To borrow from one of Belanie Dishong's quotes, in order to receive, you must first believe. Likewise, you can't receive something that you don't think already exists.
I would like to share a true story. It happened after I made the shift to the question, "How do I shine in the light of my own greatness?" Before I made that shift, I had been measuring myself against people who were doing spectacular things with their lives. I had plenty of evidence for why I wasn't amazing like them.
Well, last weekend, I received an incredible gift that I didn't expect to get. I was at a nonprofit fundraising event that I helped organize with a team of amazingly talented individuals, each with a stellar reputation within the community. In attendance were illustrious, well-known representatives of universities as well as local, state and national organizations. I was surprised when several folks came up to me and remarked how much they were enjoying the event, how it made a difference to them. Some friends who I hadn't seen in many months shared their joy of seeing me, expressing love and admiration for me. Wow. It was the most awesome feeling of love and appreciation. It really didn't serve me to ask why I couldn't shine the way other people did. I just had to see the greatness within me, and let it shine.
Part 2 in this series is ready!  Read on >>
Do you often have thoughts such as "Why can't I be successful?" or "Why can't things in my life just go the way I want?"   It's okay — there is a way you can change it all around!  Grab the tools in this 20-year proven system to change your life into the one you've always wanted.  Click here, take advantage of this special offer NOW!