3 Ways To Get Back That Lovin' Feeling
Would You Like to Learn 3 Ways to Get Back that Lovin' Feeling?
I used to think it was a pipe dream to be in a relationship that could feel romantic for more than a day or two… every once and awhile. I once believed, if it really did exist, it would probably never be in my relationship, it would have to be for some really special couple out there.
See, I was looking for something other than doing romantic things; that part was already easy for me. I wanted to know what was possible in this thing called, feeling romantic! Genuinely feeling romantic at heart, I wanted to feel it at the most unexpected times that were tied to nothing special at all.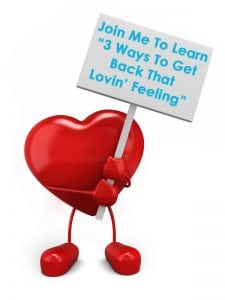 It was a struggle because I tried to get there the same old way…over and over in my life, always ending up in the same place of falling short of what I wanted and still believing it was a pipe dream.
Then…I realized that it was very simple this thing called feeling romantic…having that "lovn' feeling and my pipe dream became my reality.
Now, I want to share it with you. I want you to know what I know … My Valentine's Gift for you is a FREE TELESEMINAR… "3 Ways To Get Back That Lovin' Feeling.
All you have to do to say yes to this offer is to click on the link below and sign up… http://www.liveatchoice.com/op/romanceteleseminar/
Just imagine, this could be the best Valentine's Gift you have ever gotten… as they say, it's the gift that keeps on giving.
Enrich your life's experience of relationship, love, and romance by bringing it into your daily life, not just your special occasions.
Oh yes, at the end of the teleseminar I will be doing a drawing for another special gift. So register, show up, and stay for the drawing as well. You must be present to win.  Click Here to Register for "3 Ways To Get Back That Lovin' Feeling"!